Wyvern, The Heraldic Dragon
Edit
"Wyvern are smaller than true dragon Espers, allowing them to dart through the air with alarming speed. Yellow and hot as a burning star, Wyvern are usually benevolent, striking down evil with a flurry of well-aimed breaths of fire."
| 5 | 4.5 | 6.5 | 4.5 | 6.5 | 5 |
| --- | --- | --- | --- | --- | --- |
| ATK | DEF | ENR | RES | SPD | LCK |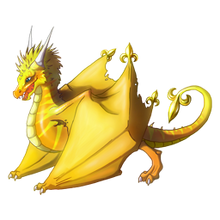 Discovered: Fri Feb 18 2011 by jencastro16
Size: 3.5m
Energy: 40eV
Hint: Moderately powerful Wyvern guard the kings of old. Seek them out in warmer weather. Wyvern are usually found in warm weather. You have to be at least about A Sentenial to see a Wyvern, and once champion you can see them in any rank in warm weather.
Wyvern cannot be bought at the store, for any currency.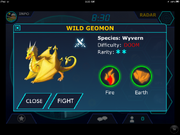 They can be found anywhere warm, preferably when day-light still shines. At night, I doubt they will come out. Rubies and Topaz's are the only elemental gems that Wyvern will accept.
Rarity: ** (Less Common)
Rank: Sentenial
Needs: Warm weather, and daylight. (Sorry if you live in very cold weather!)
.-.-.-.-.-.-.-.-.-.-.-.-.-.-.-.-.-.-.-.-.-.-.-.-.-.-.-.-.-.-.-.-.-.-.-.-.-.-.-.-.-.-.-.-.-.-.-.-.-.-.-.-.-.-.-.-.-.-.-.-.-.-.-.-.-.-.-.-.-.-.-.-
Alpha Wyvern- Aldebaran -~-The red Dragon-~-Edit
The Alpha Wyvern does not have a team; as it is a solitary dragon. Please change this sentance if you have seen Aldebaran with a team, or companion.
Type of Alpha: Lone/Solitary
Speices: Wyvern
Bring lots of healing items with you, as a fiery Aldebaran will burn you with Napalm.
Best Elements: Water/Ice
Best Geomon(s):
Akhlut, Korora, Selkie