Welcome to the Geomon Wiki
Welcome to the working Geomon Espercorp Wiki! Geomon is a revolutionary technology that lets you experience a breathtaking parallel world filled with strange and mysterious creatures known as Espers. Explore a unique environment dependent on your location! Battle and trade with Field Agents from all around the world
If you have found your way here, then you are undoubtedly interested in the rapidly growing field of espectrology. Dr. Mark Nielson, and I'm one of the head scientists here at EsperCorp. We've only just recently gotten up and running and are looking forward to new recruits like you. If you are interested in becoming an agent for EsperCorp.
Geomon was a free-to-download app for the iPod and iPhone by Loki Studios that could detect and communicate with this parallel world! Anyone, young or old, could discover and bond with Espers that existed in their individual location. Espercorp hoped that through this wonder of modern technology we could collectively research this new plane of existence faster and more thoroughly than ever though possible.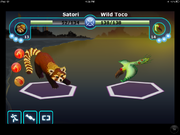 As you play, you work with an fictional organization called Espercorp, which give you missions and trade espers. You can also go into the Chat Room and chat with other fellow agents!
You can also friend agents, which allows you to chat with them, as well as duel and trade Espers with them.
Also Feel Free to help putting types and rarities for all the espers!
Here are some links to help you get started!
Special Ops
Trading
Support
The World of Geomon
What's an Esper, anyway?  And what is the Thymosphere?  Who is EsperCorp?
More Resources
The Official EsperCorp website espercorp.com/geomon Join the Forums!  A list of known Espers
Quick Links
Latest activity
Community content is available under
CC-BY-SA
unless otherwise noted.